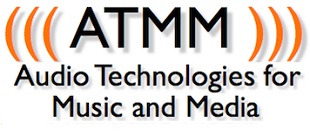 ATMM (Audio Technologies for Music and Media) is an interdisciplinary conference that focuses on the various aspects of audio, audiovisual and music technologies for music and media, and, also, on the relationship between sound, music and image, in both 'traditional' and 'new' media. http://atmm-conference.org/
THE ROLE OF SOUND AND MUSIC IN FILM AND COMPUTER GAMES: AN EXPERIMENTAL DEMONSTRATION OF HOW TWO DIFFERENT STUDIES OF SOUND AND MUSIC PRODUCTION CAN CHANGE THE SPIRIT OF A SHORT FILM.
Lecturer: Tolga Tem
"Films are fifty percent visual and fifty percent sound. Sometimes sound even overplays the visual" says the famous director David Lynch. Without sound, it is not easy to express the feelings in a film unless silence is purposely used for a certain need of expression. In real life, our visual perception works together with our auditory perception – this is how we experience the world. When recreating an environment in a film or computer game, we have a choice of using sound in a familiar way for more realism or in a delusive way to affect feelings.
Of course, designing a sound or composing music are individual arts, but when we talk about "Film or Game Audio" there is another artistic dimension and area of profession that we must be aware of: "Music Production and Sound Design for Visual Media". 
Shortened Video Recording from the Conference: November 1st, 2012