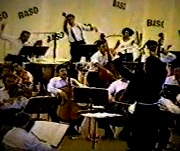 GÜNCEMDEN (From my Diary)
Performed by The BILKENT SYMPHONY ORCHESTRA (BASO) in 1994, with the composer's conducting. 
"From my Diary" is a single symphonic movement. The music remained untitled until it had been finished. It was formed from memories, daily life, and feelings during that period, and was thus named "From My Diary".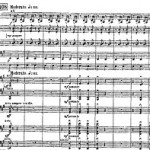 Watch the performance (Bilkent University Sports Hall, 1994)
Listen to this Symphonic Movement from the rehearsal: (Better Sound Quality)

About From My Diary:
The piece starts with strings playing like early morning winds blowing through a misty fog. The cellos bring the main tune of the piece and allow the first violins to take it gently. The music starts to climb slightly with the same theme from the flutes upon the harp, and they are followed by a nice solo from the French horn and the trumpet playing reflections of the main theme. This is the bridge that carries the music to the second part of the movement, which is written in 10/8.
The reflections of the main theme can still be heard in the stormy atmosphere, but it quickly calms with canonic passages as this part also acts like another bridge. A new theme is heard on English horn solo with Harp, which the solo is one of the best in this piece. This theme is carried from instrument to instrument in woodwinds and strings as well.
Another bridge in 10/8 with reflections of the main theme takes part with crescendos that will lead to a high climb to the climax of the movement. The climax is being prepared by the known themes and rolling timpani in another stormy atmosphere that will end with a gong, and this welcomes the sweet theme of the English horn, but this time on high strings like a rising sun after the storm. Passing through a counterpointic dialogue between cellos and violins in 6/8, the first and main theme is heard on brass as the final, which will later be accompanied by harp and high harmonics on strings until the last light touch on the gong.